The festive season is upon us, and what better way to embrace the holiday spirit than by transforming our personal spaces into winter wonderlands? While many of us focus on decorating our homes, we often overlook the place where we spend a significant amount of time - our office cubicles.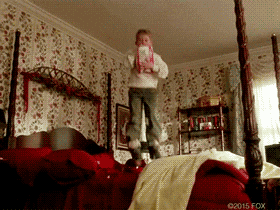 Drawing inspiration from the classic movie "Home Alone," let's dive into some unique and cozy decoration ideas that will make your cubicle the talk of the office.
Read more: The Dark Side: 5 Best Black Room Decor Ideas for 2023
The Magic of Soft Lighting
Nothing is more cozy than soft, ambient lighting. Ditch the harsh overhead lights and introduce fairy lights, lanterns or even small table lamps with warm bulbs.


Their soft glow will not only make your space feel more intimate but also reduce eye strain, especially during long working hours. If you want to be more festive, opt for a lamp with calm colors like this wooden table lamp from ArtDigest.
Textiles That Warm the Heart
Think of the comfort you feel when wrapped in a soft blanket on a cold winter night. Now, imagine bringing that comfort to your cubicle. Introduce soft textiles like throw pillows, blankets, or even a plush rug under your feet. Choose fabrics in festive colors or patterns to add a touch of the holiday season. Not only will these textiles make your space more comfortable, but they'll also add a touch of personal style.
Personalized Seating for Ultimate Comfort
While office chairs are functional, they aren't always the most comfortable or stylish. Consider adding a cushion or two to your chair for added back support. If space allows, introduce a small, cozy armchair or a bean bag. It can serve as a relaxation spot during breaks or a casual seating option for colleagues when they drop by for a chat.
Festive Desk Accessories
While it's essential to keep your workspace functional, it doesn't mean it has to be boring. Swap out your regular office supplies for festive alternatives. Think holiday-themed notepads, pens, and even mouse pads. You can also introduce small figurines, like snow globes or miniature Christmas trees, to add a festive touch without overwhelming your space.
Greenery That Brings Life
Plants have a way of making any space feel fresh and alive. Introduce small potted plants or succulents to your cubicle. If you're going for the "Home Alone" theme, consider plants like poinsettias or even a mini pine tree. Not only will they purify the air, but they'll also serve as a constant reminder of the vibrant life outside, especially during the cold, dreary winter months.
Read More: 5 Table Top Decor Essentials for Contemporary Homes
Conclusion
In conclusion, decorating your cubicle for the holiday season doesn't require a massive overhaul. With a few thoughtful touches inspired by the coziness of "Home Alone" you can transform your workspace into a festive and comfortable haven. Remember, the holiday season is all about warmth, joy, and togetherness. Let your cubicle reflect that spirit, making it a place you look forward to spending time in every day. Happy decorating with ArtDigest!